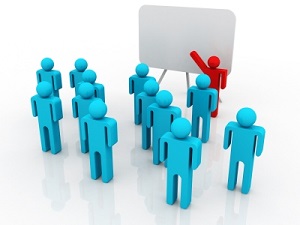 Training is an area that is time and again overlooked during a Warehouse Management System (WMS) Implementation. A huge chunk of the project is focused on development and optimization to create a powerful and dynamic system. A system that has all the value added features. A system that does everything under the sun and moon except bring you your morning coffee. However, at the end of the day, that value added is lost if little to no effort has been put into training your Managers, Supervisors, SME's and Floor Personnel. Transitioning to a new system is often a difficult change for everyone involved. Having a solid training program will prepare your workforce for the transition in a comfortable and confident manner.
Here's a look at some key points:
WHO: Anyone who will be using the JDA (formerly RedPrairie) WMS… From RF Operators who will be receiving and picking, to supervisors who will be supporting RF Operators, shipping and receiving clerks, Subject Matter Experts, trouble-shooters, personnel who will support during the Go-Live.
WHAT: Once your processes have been clearly defined it is time to start planning for training. The topics that will be covered will depend on the position you are training. Different training plans are created based on groups and roles.
WHERE: A dedicated training room would be ideal but is not always feasible. The next best thing would be to set up a "conference room" training room or any other big office space that can hold a few people comfortably.. Remember that training should always be completed away from the user's normal workspace. This way they are able to focus without interruption by their usual day-to-day activities.
WHEN: You will want to train your SME's early on in the process. This way they will have enough time and hands-on experience to get a good understanding of how the system works and how it is configured. They will also have the knowledge to validate your SOPs and assist in Testing and UAT. As for your RF personnel, it is recommended to start training a few weeks prior to go live so that they will be able to better retain all this new information.
WHY: There is a lot of functionality in a Red Prairie WMS… a lot of complex functionality. The better your staff is prepared the more comfortable they will feel about adapting new methods and technology, they will have better morale and motivation, better efficiency and productivity, all of which leads to cost savings!
HOW:
- Plan ahead to be certain that all users will receive a sufficient amount of training
- Set up your class room with individual computers where the users can each get hands on training.
- Prepare your scenarios for training exactly as they will be performed in real life.
- Use RFs or Scanners when possible. Create bar coded data so the users can scan as they would in real life.
- Use existing paperwork to reference in your training; this gives the users a point of reference.
- Keep classrooms smalls, on average 5-6 people
Practice is the hardest part of learning, and training is the essence of transformation. There are no shortcuts when it comes to training. Invest in your employees and watch it pay off.
To learn more about training, visit our JDA training page.