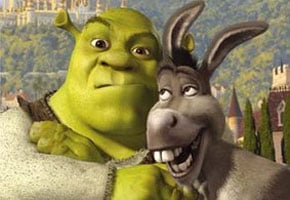 "Shrek" is the perfect example of just how much things can change in a short amount of time. He went from being a lonely, mean ogre to being the hero that marries the princess- and had to embrace new attitudes and dynamics along the way. Being the leader, he prepared his trustworthy sidekick, Donkey, for what's ahead -- " Change is Good, Donkey" Shrek says.
Preparing for Change Management to enable a successful WMS Implementation is a very important step which many organizations fail to embrace. Change is not easy for everyone. It often means letting go of something that you are very comfortable with and learning how to adapt to something new and different. People often say they are willing and open to change. The real contradiction is that people also want comfort, predictability and stability.

As you know, preparing for a WMS implementation will impact many system users in some form. Typically, the decision making process of implementing or upgrading your system comes from the top down. This means you are leaving yourself exposed to a transformation risk since your largest user base is not normally involved and yet they are expected to change. Ultimately you are creating a situation where your users are not prepared to let go of the old and accept the new as good change.

There are many implementation experiences where users create unnecessary roadblocks during our go live support simply because they have not been prepared for change. As a result, this creates confusion, frustration and at times negative changes in attitude. These are all very clear signs that change management execution has not received the importance it deserves. We often experience floor level feedback along the lines of "how can this WMS be better than our legacy system?" Simple employee comments often paint the picture very clearly:

• "It takes me twice as long to do my job, how can this be better"
• "How can a RF be better than my paper pick document"
• "Why is the system asking me to put the pallet in that location, it should go over there"
• "I cannot believe they think this is better"
• "My job has changed completely, why?"

Statistically, 50% of organizations do struggle in one form or another when they fail to apply good change management practices. We all know there are many change models available to help your organization. Unfortunately, there is no perfect change management approach but the following are some key strategies to consider:

1. Seek change management training for your team.
2. Make your leaders accountable for the change transformation.
3. Engage all levels of the organization
4. Identify how this change will impact and benefit the company.
5. How will people jobs change and what new skills will they require.
6. How will you support them while they build the comfort and confidence with this change.
7. Communicate, Communicate and Communicate!

In summary, become a motivating influence during times of change. Understand the process of change and support people through it. This will surely help the success of your WMS implementation and make people feel good about the process they are going through. Watch your business grow by embracing the changes necessary for growth.

Planning a RedPrairie WMS Implementation? Check out our WMS Implementation Checklist, which covers over 40 essential implementation steps to help you stay on track to implementation success.